As we saw in the last post, knitting thick and thin yarn with smaller needles has certain advantages, and also results in a certain look in the knit fabric. On the other hand, knitting thick and thin yarn with larger needles will yield different results.
The first advantage to knitting with larger needles is actually a matter of practicality. When knitting on finer needle sizes and encountering a thick, puffy section of yarn, you'll immediately find it's a bit of a struggle to draw the yarn through the stitches on the needle. It's easy to split the puffs and to lose the smaller stitches. So by knitting with bigger needles, you'll have larger loops on the needles of the finer segments of the yarn as well, which will allow easy passage of the puffy parts.
A second advantage to knitting thick and thin yarn with larger needles is the strain on your hands. Fighting with the thicker yarn and tight loops on fine needles would be fine for a quick small project, but it would get tiresome quickly if the project was extensive.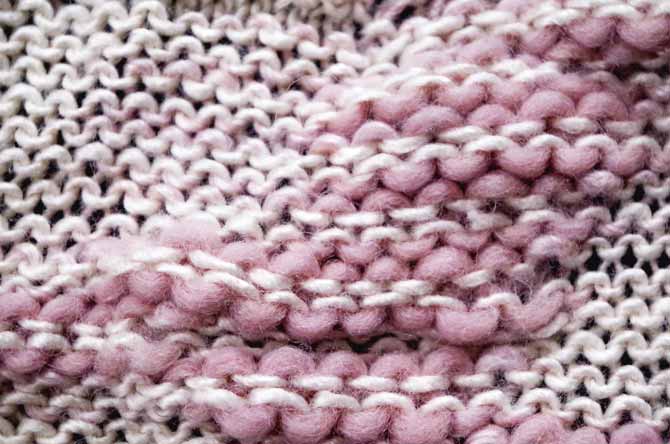 A third advantage of using larger needles is that the fabric has a lot of drape and movement and delightful texture that really pops out. I love the bamboo rayon in Bamboo Bloom because of its sheen and its hand when knit. I really like the wool tufts in Bamboo Bloom because of the lofty airiness it adds to the fabric.
However, just as multicolored or variegated yarns do, thick-n-thin yarns can "pool". Pooling means that there's a concentration of the thick segments all in one area of the finished fabric. In the swatch above, it was just happenstance that all these tufts were stacked above each other. To solve this, I would knit on more or fewer stitches if possible. If not, I would use two different hanks of yarn and alter every 2nd row so that the pooling would be broken up.
In tomorrow's post, we'll look at another way to break up pooling when knitting with thick and thin yarns.

Print this page or save as a PDF