This week I'm knitting with Wisdom Yarn's Prose Sock Yarn, but I'm leaving yesterday's socks behind to explore knitting dropped stitch lace.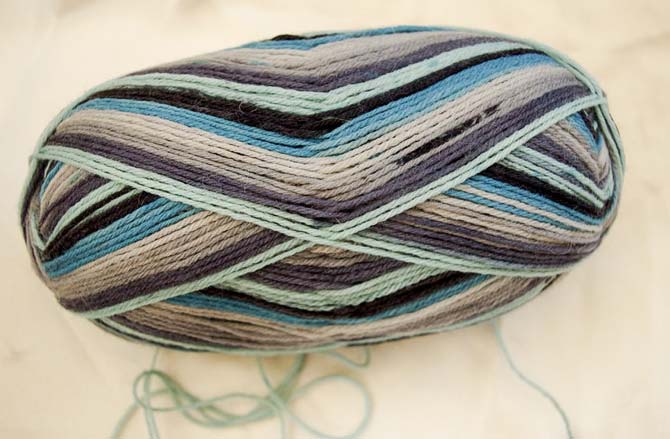 Dropped stitch lace consists of planning to unravel certain stitches in your knitted fabric ahead of time to create that familiar "ladder" that forms when you drop a stitch and the ones below it slip out of the embrace of the ones above.
It's possible to work dropped stitch lace ladders in short sections that are deliberately placed to create a lace texture in just certain sections of a finished piece or across a whole set of rows, or it's possible to work the dropped stitch lace all over an entire knit fabric. I know you'd love to see an example of what I'm talking about, but it's going to be a surprise all revealed tomorrow!
What you see in this swatch is the precursor to dropped stitch lace. All the stitches are knit and it just looks like regular stockinette. However, I'm sure you can see there are some irregularities in the fabric and if you look closely, you'll even see that some of the stitches look uneven or twisted.
To prevent the whole lot of stitches to simply unravel into a pile of knots and kinked yarn, it's important to flank either side of the dropped stitch lace stitches with twisted knit stitches on the right side of the fabric and twisted purl stitches on the wrong side.
The other irregularities you're seeing in this swatch are a series of multiple increases and decreases which may look like flattened nupps or bobbles. Tomorrow will be the big reveal when we see what happens when I drop all my stitches. And now the requisite artsy photo of the swatch.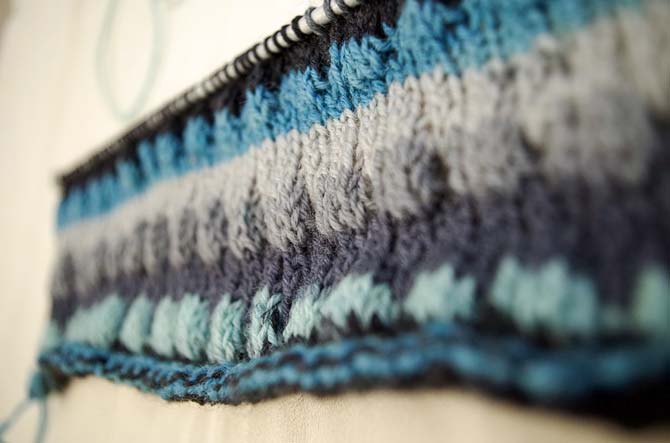 For now, try the following swatch and unravel some dropped stitch lace yourself!
Cast on 17 stitches.
Knit 4 ridges of garter stitch.
Row 5: K1, [yo, k2tog] across—9 sts and 8 yarn overs.
Row 6: P1tbl, [p1, p1tbl] across.
Row 7: K1tbl, [k1, k1tbl] across.
Repeat Rows 6 and 7 to desired length ending with an even row.
Next Row: K1tbl, [drop next st off left-hand needle, yo, k1tbl] across.
Knit 4 ridges of garter stitch.
Cast off.
Abbreviations
k= knit; p = purl; yo = yarn over; tbl = through back loop; tog = together; st(s) = stitch(es)
Now, wrestle with the swatch and force those dropped stitches to ladder right down to the bottom of the swatch! Do you like what you see?

Print this page or save as a PDF