This week I'm knitting with Lion Brand Two of Wands Color Theory. This medium-weight acrylic yarn offers an array of colors that work together harmoniously and make for easy-care garments and accessories for the whole family.
On day 3, I made a button-up cowl that cuddles up to your neck to keep it warm. Yesterday, I made a pair of double-stranded comfy, cozy slippers to keep your feet warm. And today, I'm taking care of that other extremity, your bottom, to keep it nice and warm when sitting on a bench either outdoors or in a chilly arena; in other words, a sit-upon.
I love the definition according to the Merriam-Webster website.

Sit-upons can be made waterproof by sewing on a layer of waterproof material to the underside, or in Nordic countries, they're often made from wool and felted. Today, I'm using double strands of each Stonewash and Admiral to create mine. It'll make a thick and cushiony layer between your buttocks and whatever you sit upon.
Sit-upons are often 18" x 18" or 20" x 20", but you can make them any size you like. When my husband saw me planning out this project, he asked me to make one for him to use on the seat of his truck. He wanted something to protect the truck seat from the wet and grime he brought with him when making deliveries or pick-ups, and could easily be removed and laundered as needed. He asked for a 22" sit-upon and I thought Lion Brand Color Theory would be a perfect fit for this project.
If you've done mosaic knitting before, you know how addictive it can be. The motion of knitting and slipping stitches can be very rhythmic. If you haven't done it before, you're in for a treat. It's quite easy to do. One of my favorite knitting books is Mosaic Knitting by Barbara G. Walker. There are hundreds of mosaic patterns to choose from, however, I couldn't very well use one of hers, so I designed my own. Actually, I designed four different ones and let my husband choose the one he wanted, so I've named it The Trucker's Sit-upon.
Mosaic patterns are usually only charted, as in no written instructions. Here's a sample chart and some basic rules for mosaic knitting.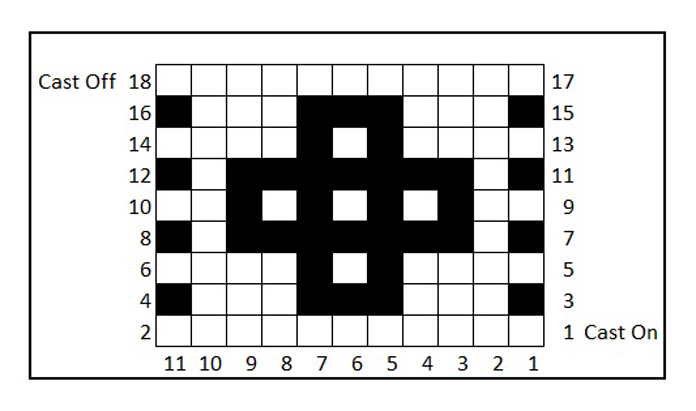 White squares denote the Main Color and black squares denote the Contrasting Color.
All rows are in garter stitch; that is, knit on both Right Side and Wrong Side
Only one color is used on each row. The 1st square denotes the color for the row.
The first stitch is slipped purl-wise on each row. The previous color will be on the front of your work – slip the stitch purl-wise, then take the yarn to the back through the needles, drop it, and pick up and knit with the other colored yarn. This is not a mosaic rule; however, it is a rule for this project.
One chart row represents both the Right Side and Wrong Side Read the Right Side row from right to left, and the Wrong Side row from left to right.
When you encounter the opposite color according to the chart, slip the stitch purl-wise with yarn in back on Right Side rows and with yarn in front on Wrong Side
Frequently stop to admire your work and compare it to the chart. This is the best method for catching errors as soon as possible. This isn't a mosaic rule either, but one I recommend for every project.
If you notice, the sample pattern above is a mirror image which means the return or Wrong Side row is worked exactly the same as the Right Side row, as is from bottom to top. One other note on the above chart is that the Cast On row counts as Row 1 and the Cast Off row as Row 18.
If you recall back on Day 2, Swatch Play Day, I made a swatch holding 2 strands of yarn together with garter rows on the lower half and mosaic stitches on the top half.
I used the same stitch count for both sections, but note the difference in the gauge. Even though the mosaic stitches were all knit, they appear smaller. This is due to the tension applied to the yarn that floats behind the slipped stitches. This swatch was just a K1, Sl1 across the row and I wasn't concerned about tension while knitting it. When I knit mosaic, I tend to firm up the garter rows and try to consciously remember to 'feed my floats'. That means, don't tighten up on the yarn after slipping a stitch or you may find that your sit-upon flares out at the top and bottom which are predominately garter stitch rows.
The attached pattern for the Trucker's Sit-upon is completely charted with all the instructions you need on one page. You can easily adjust the size of this pattern by increasing or decreasing the number of border stitches on each side by multiples of 2, and the number of rows on each of the top and bottom borders by multiples of 4.
For this pattern, you'll need:
2 – 3.5oz [100g] balls of Lion Brand Color Theory in color Admiral
2 – 3.5oz [100g] balls of Lion Brand Color Theory in color Stonewash
US 8 [5.5mm] needles or whatever size you need to achieve gauge
5.0mm crochet hook (or close in size)
And here's the finished product!
I'm very pleased with the results and happy to say, so is my husband. It's really soft and cushy. Hopefully, he gets good use out of it. I'll know by how often it shows up on laundry day.
Now, for the grand finale!
All three projects this week turned out really well. My neck, feet and seat are all looked after for the cooler days ahead. Best of all, they're so easy to care for – just throw them in the washer and dryer as needed. Though, I'll likely use a laundry bag for the cowl just to protect the buttons.
I really enjoyed making these quick and easy projects with Lion Brand Color Theory yarn and will be knitting up a few more as gifts for Christmas.
Happy Knitting!
This is part 5 of 5 in this series